About Ballston Spa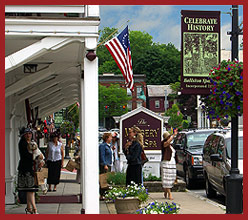 The Victorian village of Ballston Spa, NY became one of America's premiere tourist destinations in the early 1800s due to the "healing" waters of several area natural mineral springs. This gave rise to several prominent hotels in the village including the San Souci which at the time was America's largest. The Alldridge hotel (which is today the Brookside Museum and the after-party venue for our festival) was home to James Fenimore Cooper as he wrote portions of his novel Last of the Mohicans.
The Medberry Inn is the only surviving operating hotel from that era. It served as a location in the film The Way We Were. The village was the basis for Richard Russo's fictional town of Bath in the novel and film Nobody's Fool.
The village was first settled in 1771 and recently celebrated its bicentennial having been incorporated as a village in 1807. Ballston Spa is located north of Albany, NY and minutes south of Saratoga Springs. It is a three hour drive from New York City.

---
Where is Ballston Spa?
We are a Family Friendly Festival.
Follow us on

and



Click Here to Contact Us

Know the Show!
Three EASY ways to join our exclusive email list
and get all the details on our events and activities.
(Either way, you can unsubscribe at any time.)
| | | |
| --- | --- | --- |
| | | Scan to Join! |